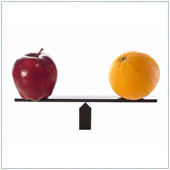 When it comes to technology, there is so much to choose from that picking any system or device is a daunting task. This is especially true for tablets which come with different systems, apps and features. There's also no doubting that tablets can help make many people's jobs easier. So what do you do when you want a new tablet? The easiest thing is to compare them.
Here's a five point comparison of the three most popular 10-inch tablets – Apple's iPad 4, Google's Nexus 10 and Microsoft's Surface Pro.
Price
Apple iPad – The iPad starts at USD$499 for the cheapest model and USD$929 for the top model. The major differences between the models is storage size and connectivity options.
Google Nexus 10 – The Nexus 10 starts at USD$399 for the base model and USD$499 for the top model. The only real difference between the two models is storage size.
Microsoft Surface Pro – The base model of the Surface Pro starts at USD$899 while the other model starts at USD$999.
The prices listed above are for just the device, the price you pay will be higher if you add peripherals like keyboard cases, screen protectors or extended warranty.
Storage
iPad – Comes with 16, 32, 64 or 128GB of storage.
Nexus 10 – Has either 16 or 32GB of storage.
Surface Pro – Offers 64 or 128GB of storage. The Pro also has a Micro SD card reader which can support up to 64GB of extra storage. There is also a USB port which you could connect an external hard drive to, allowing for nearly unlimited storage.
It's important to note that these storage numbers are provided by the manufacturer of the device, these numbers don't include the space the operating system and other pre-installed programs take up. For example the Surface Pro 64GB actually has 29GB of usable storage space. In comparison: The Nexus 10 32GB has about 29GB of usable space while the iPad 32GB has slightly over 27GB.
Internet Connectivity
iPad – There are two versions: Wi-Fi only and Wi-Fi/3g/LTE (Mobile data).
Nexus 10- Wi-Fi only.
Surface Pro – Wi-Fi only.
Being able to connect to the Internet either through a Wi-Fi or mobile data connection is important for many business users, especially if you are out of the office on a regular basis.
Battery life
iPad – Around 10 hours with normal use.
Nexus 10 – Around 8.5 hours with normal use.
Surface Pro – Around four hours.
The total battery life depends on what users do with the tablets. The numbers reflect what an average business user will get out of their tablet. As with almost any mobile device, it would be a good idea to keep a spare cord at the office and at home so you can charge it when you need to.
Apps
iPad – Apple's App Store has slightly over 800,000 apps, many with versions optimized for the iPad.
Nexus 10 – Google Play also has slightly over 800,000 apps available to download. The number of tablet-specific apps is far lower than the App Store however.
Surface Pro – The Surface Pro runs a full version of Windows 8, which means any Windows program that is compatible with Windows 8 will work on the Surface Pro.
Which is best for business?
When it comes to buying a tablet for work, you need to take into account what you will be using it for. Below are eight popular scenarios and which devices may be best suited for that task.
Email only – If you are looking for a tablet to just check your email on, it would be a good idea to look at the Nexus 10. The main reason for this is twofold: First, you can install different virtual keyboards which make it easier for you to type messages. Second: There are more email apps that allow you to connect to multiple accounts.
On a budget – The Nexus 10 is the cheapest 10-inch tablet, and would be the best option here.
To replace a laptop – The Surface Pro, which costs the same as most mid-range laptops, is really more of a laptop with a touch screen, which makes it an ideal candidate to replace an existing laptop.
To help with presentations – The Surface Pro is your best option here. Because you can install a full version of Office 2013 (with PowerPoint) on the device which is mostly portable, you shouldn't need anything else. Beyond that, there is a mini display port which allows you to connect to any monitor or projection screen (HDMI or VGA) with an adapter.
Everyday use – If you plan to be doing a bit of everything, including personal use, most users will go with the iPad due to its ease of use and great platform.
Google user – The Nexus 10 is built to be the 'Google' tablet; what Google deems to be the benchmark for other Android tablets. As such, any Google user will find this tablet to be the best choice, especially if you use Google Apps in the office.
Apple user – If you use an iPhone or Apple computers in your office, the iPad would be the best device.
Microsoft user – Windows users will likely benefit most from the Microsoft Surface.
If you're looking for a new tablet and would like help figuring out which will be best for your business needs please contact us today, we may be able to help.