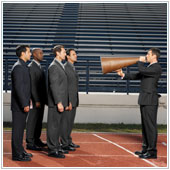 The tech industry is always moving forward, it seems that a new concept or system is introduced on a near weekly basis. This often comes at the cost of older systems which are left behind when developers stop supporting them. Unfortunately, many businesses still use these older systems or programs and are often left without valuable support. Microsoft has announced that they will stop supporting some older, yet still popular software.
For businesses running Office 2003 or Microsoft XP SP3, you need to be aware that Microsoft has announced that they will stop supporting these products on April 8, 2014. This could have far reaching consequences for businesses that use these platforms.
What does this mean for my business?
When a company like Microsoft says they will 'stop supporting' what they mean is that they will usually stop providing updates, paid support, security updates and maybe even online based support.
The biggest problem with a move like this hinges on security. If a hacker finds a security exploit on an older system that a developer has stopped supporting, your systems could be open to attack. Beyond that, if you have paid for support, you will no longer have it if the software stops working. These two reasons alone will eventually lead to higher IT costs.
When it comes to programs like Office and XP, there is another downside to this withdrawal of support: It is highly likely that future versions of the software will be incompatible with what you are running. This means you likely won't be able to open newer versions of Office documents, which could create problems especially if you have clients who use newer versions; you won't be able to read/edit the documents.

What can we do?
The easiest thing to do is to upgrade your software. This may be easier said than done, especially if you have a tighter budget. Luckily, you have more or less one year to upgrade, and in this modern age you have more than one way to update. Possibly the best is to work with an IT partner who can help develop a solution that will fit your business and budget.
If you're still using Office 2003 or XP SP3 in your office, contact us today to see how we can help.