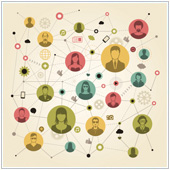 Measuring the overall success of a marketing campaign is often dependent on a number of metrics. When it comes to measuring the success of your social media campaigns, the most common metric employed is the number of shares. Companies who post content online often find it difficult to get their content shared through. If this resonates with you then here are four common reasons as to why your content might not be be shared and what you can do about that.
1. The vast majority of people are hesitant to share content
According to a study conducted by Carnegie Mellon University and Facebook over a 17 day period, approximately 15.3 billion comments and posts were written but were then deleted and not posted on Facebook alone.
While the reasons will have been varied, the numbers highlight that the vast majority of users are sensitive to what they post on Facebook, and most most likely other networks as well. What does this mean for businesses? Well, you need to ensure that the content you are posting offers value to not only your audience, but their audience as well.
Think about when you have shared content on any network. You probably didn't do so 100% for yourself, but instead shared the content or created a post so your audience would interact with it, or possibly get something out of it. Think of this as the "hmm, that's interesting, other people will like it too, so I'll post it" mentality. By sharing content others enjoy or respond to you get the benefit of increased recognition.
If you can create content that gets people to think this way, there is an increased chance that they will share it.
2. Facebook users want to be seen in a positive light
According to a study carried out by INC. 80% of respondents share content because it shows that they are being a good friend to those they care about. People use social media to foster good relationships and connect with those they care about. And if somebody regards your posts as potentially able to tarnish their image on social media, they won't share it.
Businesses looking to capitalize on this need to try to create content and campaigns that help users better relate to one another. Combine this with the above example of creating interesting-to-share content and you will be more likely to see an increase in shares.
3. Content doesn't fit our salient identities
Because social media has become an extension of society, many experts apply common social science principles to it. The most commonly applied theory is of the five identities (relational, personal, social, superficial, and collective) that determine how people behave in a certain situation.
If you are posting content that doesn't fit with an an individual's current identity then it's not going to be shared. So, how can businesses capitalize on these changing identifies? One effective way is to get to know your main target audience; how they act and react to certain social cues, and then create content to fit with this behavior.
For example, if your target group for posts is parents, then using language and content that triggers parental instincts could increase shares as parents associate better with it.
You might want to widen your focus too and try developing content that capitalizes on different identities, tracking what works best.
4. Content doesn't mesh with a user's values and goals
The same INC. study found that after being a good friend, 63% of users surveyed noted that they were more likely to share content that reflected their goals, values, and dreams.
How can a business capitalize on this? The best way is to get to know your audience. Look at their posting and sharing habits and the type of content they share on a regular basis. This may change over time, but you will see patterns evolve for different groups. If you can develop and post content that reflects these main goals and values then you are more likely to see your content being shared. Try different approaches and keep in mind who you are developing content for.
If you are looking to learn more about social media, contact us today to see how our systems can help you integrate it with your business success.